Croeso i Bridfa Aberaeron
Welcome to Aberaeron Stud Welsh Cobs

Welsh Cobs & Welsh part-bred performance horses
Aberaeron Stud is a small stud based in Aberaeron, West Wales. Specialising in Welsh Cobs & Part-bred performance horses. Aberaeron horses have excelled at showing, showjumping, cross country, dressage and eventing. The Welsh Cob stud is one of the few studs with Welsh cobs consistently placed in the Welsh Cob Performance Awards. In 2011 Nikki Brewer's Welsh cob Aberaeron Telynor ap Tywysog was Champion Section D at the WPCS (Welsh Pony and Cob Society) performance show. See the Performance page for details of performance Welsh Cobs and Welsh-part-breds.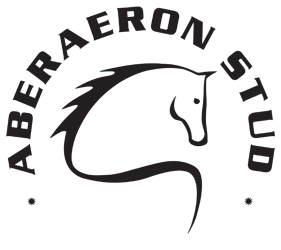 Breeding horses for temperament, conformation, performance & quality
Established in 1964. Aberaeron bloodlines include Welsh cobs: Pentre Eiddwen Comet, Brenin Dafydd, Nebo Black Magic & Menai Sparkling Imperial. In 2015 we have a home bred palomino Welsh cob stallion at stud. See the Stallions at stud page for more details.
We occasionally have welsh cobs for sale. They are all home-bred Welsh cobs, & welsh part-breds. See the For Sale page for more details. We currently have two welsh cobs for sale: a 2 year old bay gelding & 5 year old palomino welsh cob stallion for sale. Our Welsh cobs are bred for a purpose – pleasure and performance.
Aberaeron has the only life-sized bronze of a Welsh cob stallion in the world! Created by sculptor David Mayer, it was erected in the town of Aberaeron in 2005. The Welsh Cob statue was Donated to the town by the Aberaeron Festival of Welsh Ponies and Cobs to denote the area as Welsh Cob Country.
Aptly described as "the best ride and drive animal in the World", the Welsh Cob has been evolved throughout many centuries for his courage, tractability and powers of endurance.
---